In-Store Mattress Coupons and Promotions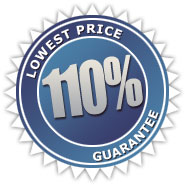 110% Lowest Mattress Price Guarantee
Our 110% Lowest Mattress Price Guarantee means we'll not only match any advertised or formal written quote on the same or an equivalent mattress (based on manufacturer's specifications) from any local full-line furniture, mattress or department store up to 30 days after purchase, but we will also refund you 110% of the difference! In fact, bring us any competitor's advertisement and we will BEAT their prices GUARANTEED! Of course, it doesn't hurt to save more using any of the coupons below.
10% Discount

General public or new customers discount.

Military Discount

A special thank you to our real life heroes!

Culinary Discount

Vegas has the best resorts and casinos in the world and it is all because of you! You do an impressive job and we know how tiring that must be. This is why we are giving you 20% OFF any brand new mattress at our store.

AAA Membership Discount

Having a AAA membership gives you peace of mind as well as many other benefits, including savings on your brand new mattress!

AARP Offer

As an AARP member, you enjoy many discounts wherever you go and now that includes shopping for a new mattress with us at Sweet Dreams Mattress Gallery!